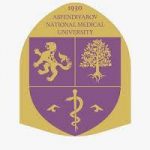 Asfendiyarov Kazakh National Medical University
Kazakh National Medical University is a university in Almaty, Kazakhstan. It was established in 1931, and the first rector was S.D. Asfendiyarov. In 2001, the government classified it as a "national" university.
The university has a student population of 11,000 students and PhD students study at KazNMU, and 1500 faculty members.
Kazakh national medical University is a milestone in the history of education, medicine and the country as a whole. The University, which built its foundation on the basis of science, education and practice, can rightly be proud of its achievements. Quality organization of training, scientific and clinical activities, high level of qualification of doctors, recognition medical community has become a visiting card of KazNMU.
The graduates were nominated to the highest position of health care in different periods of the country's life. For example, 8 future people's Commissars and Ministers of health care of Kazakhstan, 3 rectors ofmedical universities of Kazakhstan, 19 heads of research institutes, SC, 6 heads of regional healthinstitutions, 6 world Champions, 2 Olympic Champions, 71 honored workers of science of the Kazakh SSR andHonored workers of Kazakhstan, 45 Honored doctors of the Kazakh SSR, 46 Academicians of USSR Academyof medical Sciences, national Academy of Sciences of Kazakhstan and 17 Winners of the State award RK.Two students of KazNMU, Manshuk Mametova and Vladimir Ivanilov, immortalized their names, becoming Heroes of Soviet Union.
KazNMU today takes 1st place in training all specialties of bachelor's degree in healthcare and pharmacy, 1stplace in the National rating of medical Universities, 1st place in the National rating of educational programs health care on 5 educational programs of pre-diploma level of training; 1st place in the Independent rating of universities of Kazakhstan; the highest rate of employment graduates comprises 96%; Almost 10000students, interns, residents, undergraduates and doctoral students from 17 countries of the world representing 34 nationalities; 6 faculties, 8 specialties of bachelor's degree, 7 master's degree specialties, 5 Internship specialties, 31 specialty of residency, 4 laboratories, 7 academic buildings, 7 dormitories; 116partner universities from 27 countries.